For Wedding Halls & Banquet
Digital Standee
Everyone knows and well familiar with the facility of digital standee in every field and organization it is nothing but an opportunity that gets you aware of the services and products in more detail.
In short, a pleasant environment has thus created between customers and the board of organization staff. This proves digital standee is the most amicable way of welcoming and entertain the customers. Wedding Halls & Banquet are designed very luxuriously and decorated with lavish and lubricative products and people on the ceremony of wedding event go for its booking and demand them about its glamorous decoration in advance so the event management team according to their clients and customers demand and will design with full devotion and concentration and left no stone unturned to make it captivating and customer eye-catching center. they also provide some advance digital kiosks and inventions for food order, so the people never feel any type of difficulties in on the beautiful occasion of wedding ceremony in the wedding hall. When we are taking the reference of digital standee display screens, we feel comfortable because we are well familiar with the usage of these innovative kiosks every type of advertisements, the flow of information and delivery facilities are available there which enable the customers active to interact and communicate with the team for what they want. these are comprised of screens with higher resolutions and greater efficiency results These digital standee devices very useful and play a vital role on the occasion of a marriage ceremony because people interact these kiosks for various purposes some go fo searching the desired locations while other people use ut for searching food menu and items. They are placed at different locations so everyone has easy access to find out what they want. Because of its sophisticated outlook, innovative styling design, and advanced features, it attracts most of the visitors in large numbers and these kiosk systems devices mostly stand at the very entrance so the customer can easily interact.
Mobile Charging Stations
As a body without a soul, a library without books, and a school without students are empty and soulless same today's existence without technology and mobile is unfilled and missed so mobile phones are the most essential invention of today world as it renders various multiple services and accomplishments.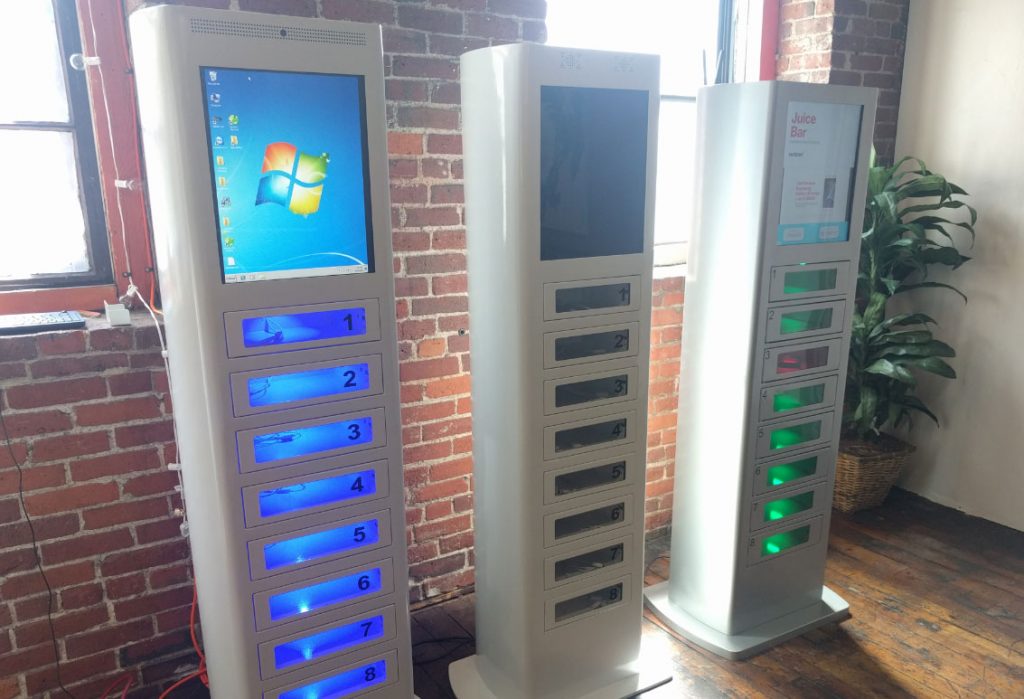 It is the era of mobile and technology and people most of their time is with mobile devices so every company, hotel, and wedding hall make it a serious task and should provide the facilities of charging stations. On the occasion of the marriage ceremony, people are engaged with different activities and do not find time for charging some are engaged for waiting their turn in lengthy lines in the wedding hall for performance so fir better tips and make the functions more sophisticated they need mobile phones to search more steps from the internet they get bored, so they prefer to spend watching their favorite programs, wedding functions and later go for applying. Charging stations use for multiple purposes and can be used in a variety of circumstances Customers come from the various area some come from far while other come in immediately and due to this fact, they forget to bring their cellphone chargers along with them. hotel management and other saloons and spas management systems provide this kind of hospitality and sympathy to their customers and allow them to connect with reference friends and family thus, it improves customers experience and it is one of special kind of warmth friendliness with them, so they are attracted to this place for next time. Charing units for mobile phones at marriage hall and receptions are faster-growing trend because guests and the concerned people never want to miss the golden chance of capturing photos, so they use their mobile as a camera and on this happy occasion everyone desire for photoshoots thus they use their cell phone make sure its battery is going down they use the charger units for charging.
Indoor SMD Display
SMD kiosks systems are the mount display screens used in many places which include restaurants, hotels, baking and insurance sectors, and also saloons for the exhibition of different types of information and entertainment for their customers.These SMD display systems have high-resolution powers which display video clips and contents in a sophisticated way and the screen has vibrant and brilliant colors emitting elements which makes it more lavish thus the customers are attracted to it within no time.
Visitors come to saloons and hotels for the sake of getting entertainment and inner calmness and these organizations have well-managed SMD Screens for the customers because they have to wait for their turn and especially during waiting hours they get upset and feel stress. Indoor SMD Display screens give them an outstanding company and never feel them about that waiting hour and anxiety. These SMD display screens advertise the relevant information about the organizations and systems on the display screens so the customers get entertain while do focusing on such contents these provided contents are beneficial for the customers and help them take some more knowledge about that place thus in this way the customers do not feel stress while waiting for their turn. this plays a vital role and catches the motivations of customers in large number. These display screens are very beneficial to all types of organizations and business sectors when they are used and applied in the right way. Display screens are the first impressions for the visitors and people who are going to attain the marriage ceremony I the wedding hall so it should be well managed and filled with all vibrant colors which and captivate the whole background with its captivating brightness and capture the customers best attentions. Its versatile look enhances the beauty of wedding occasion and give a full coverage to the whole area of the wedding and banquet hall.