For Hotels, Saloon & Spas
Indoor SMD Display
SMD kiosks systems are the mount display screens used in many places which include restaurants, hotels, baking and insurance sectors, and also saloons for the exhibition of different types of information and entertainment for their customers.
These SMD display systems have high-resolution powers which display video clips and contents in a sophisticated way and the screen has vibrant and brilliant colors emitting elements which makes it more lavish thus the customers are attracted to it within no time. Visitors come to saloons and hotels for the sake of getting entertainment and inner calmness and these organizations have well-managed SMD Screens for the customers because they have to wait for their turn and especially during waiting hours they get upset and feel stress. Indoor SMD Display screens give them an outstanding company and never feel them about that waiting hour and anxiety. These SMD display screens advertise the relevant information about the organizations and systems on the display screens so the customers get entertain while do focusing on such contents these provided contents are beneficial for the customers and help them take some more knowledge about that place thus in this way the customers do not feel stress while waiting for their turn. this plays a vital role and catches the motivations of customers in large number. These display screens are very beneficial to all types of organizations and business sectors when they are used and applied in the right way. These are the devices that create interest and motivation and grab the attention of customers through their versatile content which is the positive point to improve and boosts up your business. These display screens have numerous benefits some are as follows. These screens having eye-catching and captivating brightness. These are noiseless free devices An innovative way to engage customers Feel free customers stress level and make them calm They have high durability Choices and selections of customization
Mobile Charging Stations
Charging systems especially in the premises of saloons and spas play an important role because, in case of emergency requirements for their clients and customers, the saloon management team staff use them for charging purpose and enable to create a connection with different entities.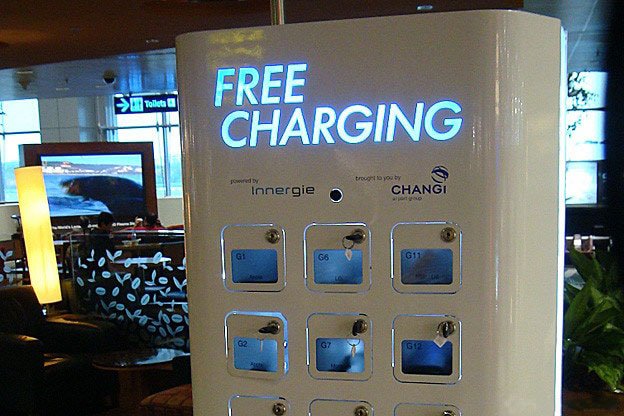 Most of the time the staff engage with the customers the whole day and forget to keep their cellphones in charging thus stay out of the connection. at that time charging stations at different stations are important whenever it comes under eyesight, they take it under their usage. Customers come from the various area some come from far while other come in immediately and due to this fact, they forget to bring their cellphone chargers along with them. hotel management and other saloons and spas management systems provide this kind of hospitality and sympathy to their customers and allow them to connect with reference friends and family thus, it improves customers experience and it is one of special kind of warmth friendliness with them, so they are attracted to this place for next time. It is the era of mobile and technology and people most of their time with mobile devices so every company, hotel, and even saloons take it a serious task and should provide the facilities of charging stations. While the customers are engaged for waiting their turn in lengthy lines in the restaurants and in saloons, they get bored so they prefer to spend their time on the internet by watching their favorite programs, seasons, and other talk shows which keep them fresh and help them to come out of the stressful and painful conditions. They also use them for playing games that require enough charging thus the charging stations along the bed are vital especially for patients. Charging stations use for multiple purposes and can be used in a variety of circumstances.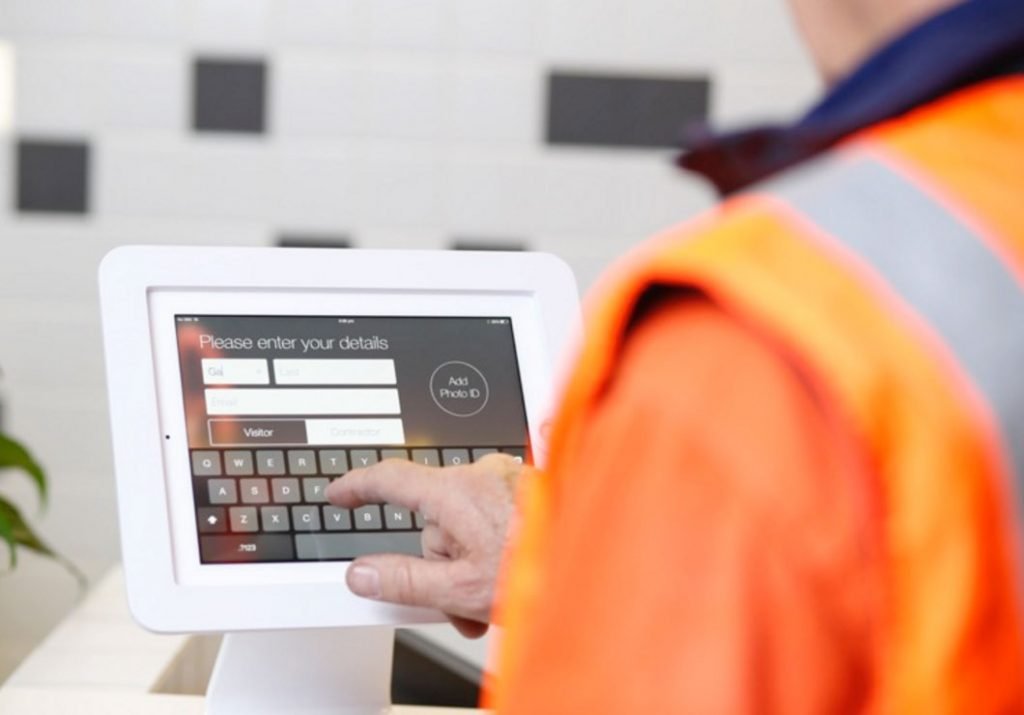 Visitor Management kiosks
Visitor management kiosks permit their systems to monitor different customers, clients, and visitors that used to visit their locations for various purposes some come for the sake of collecting data they require while others visit for the aim of meeting with the management team.
These management kiosks are the best and efficient way of sustainability of security systems in the organization where it is a hotel, saloon, or spas. The main aim of introducing a visitor management kiosks system in the organization is to improve security protocols and controls visitor access to their organization. visitors come to the organization in various shapes and forms, and they may be clients, guests from any business sectors, suppliers of equipment and products, or any researcher whose goal is searching about some products. so, therefore, the management team should be careful about their actions and ensure all the security protocols. The organizations have set and introduce some inventions like digital kiosks and smart application systems which are applicable and useful for the verification of visitors. Some purposeful inquiries are already fetched into the kiosks system and before they enter into the organization and companies, they have to provide the mentioned information, so the management team of the company allows them once the verification process has been done. Besides it, they can also provide their ID card issued by the Government or any business card where the relevant data are mentioned they simply refer it to the management team and make them satisfy so they can permit to visit the place. The smart system applications are used in hotels and saloons where the clients or visitor scan their documents and make about their identification and four considerable and major elements should be reflected for well-organized visitor control. Confirmation of distinct features. Authentication of the visit. Screening for illegal imports. Monitoring their accessibility from a secret part of the company.
Feedback Kiosks
The world's biggest commercial area surrounding by saloons and spas today and everyone is conscious about this place where they feel inner calmness and serenity when they used to visit these places.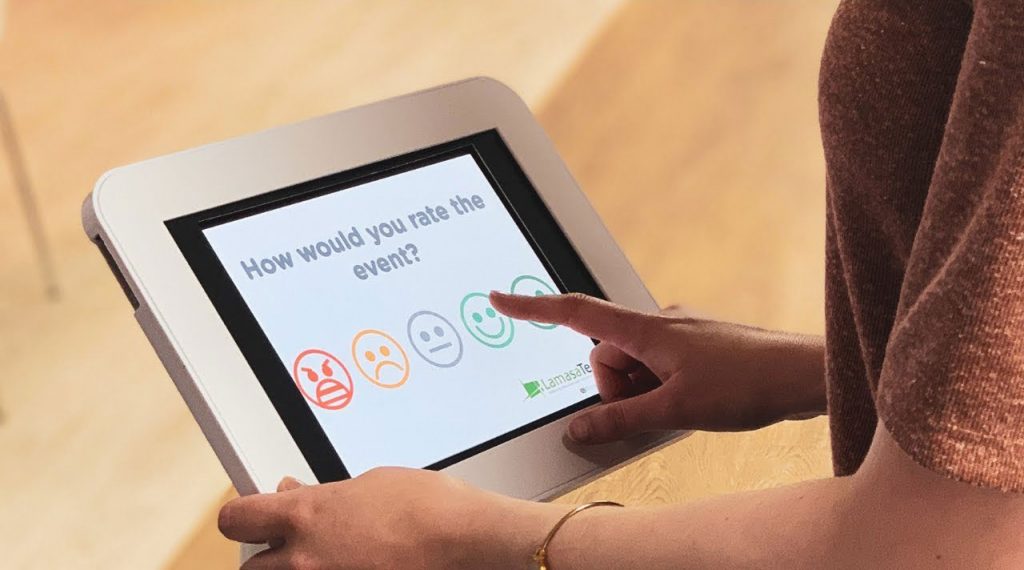 Some advanced applications and inventions may be introduced in these places to provide better service for visitors and users so, they are better motivated. Feedback kiosks systems area vital applications which encourage the system to run their business more effectively and bring furtherance. The first most reason that why any company, salon, or other restaurants acquire feedback and reviews from their clients and customers is that can assist the company to portray or customize the services that you want to vend so with the usage of small feedback application the company can renovate or restore customers offerings and improve the systems of their concern place like a saloon, and hotel, etc. Feedback app can also apply online when you are honestly working with your organization. Many saloons and hotel management borders publish official pages and take their customer suggestions and tips under their consideration. This is a simple and flexible way of communication and giving feedback because today became engaged with social activities and people prefer to visit things socially as they show less interest in the physical visit. Customers use the interactive kiosks through online applications and offer their recommendations. Business systems need cooperation therefore mostly you do compromise when it is time to boosts up your business. Mostly saloons and hotel management team decided to invite the customers and offer them services with concession this build a type of mutual understanding between the team and customers and the aim purpose of this action is taking feedback about their service if they experience satisfactory results they recommend to continue the service while on another side they recommend the managing team to improve further so in both cases the suggestions provided by the customers are appreciated.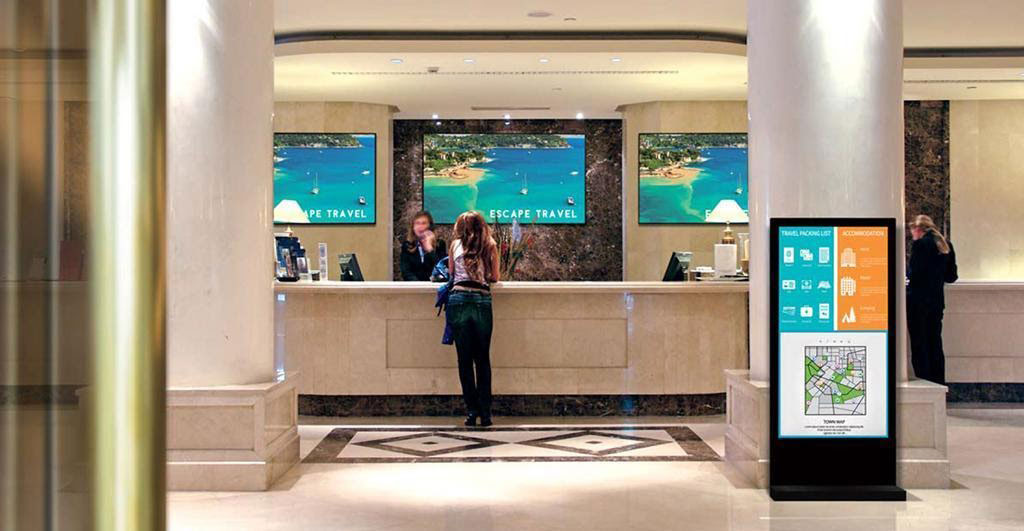 Digital Standee
Everyone knows and well familiar with the facility of digital standee in every field and organization it is nothing but an opportunity that gets you aware of the services and products in more detail.in short, a pleasant environment has thus created between customers and the board of organization staff.
This proves digital standee is the most amicable way of welcoming and entertain the customers. When we are taking the reference of digital standee display screens we feel comfortable because we are well familiar with the usage of these innovative kiosks every type of advertisements, the flow of information and delivery facilities are available there which enable the customers active to interact and communicate with the team for what the want. these are comprised of screens with higher resolutions and greater efficiency results. In hotels, saloons, and spas there are used for various multiple purposes as they are digitally functioning so the customers and visitors in hotels can interact with these kiosks and place their orders and in saloons, they also search for a different face, outfit, and hairstyles and communicative through this standee by using the touch screen of these kiosks. Digital standee in every commercial place displays the information in different procedures either in the forms of video or content and the content about the products and services has proven an effective way to deliver the righteous information. many video clips about the medical centers such as many innovations in the hotel and saloons center products are extremely effective and display the latest news about the concern place in this way through these flaunts screen the customers come to know about the current circumstances Because of its sophisticated outlook, innovative styling design, and advanced features, it attracts most of the visitors in large numbers and these kiosk systems devices mostly stand at the very entrance so the customer can easily interact.
Smart mirror
Various features are added to make the wedding ceremony, and other official parties special, and sophisticated, by visiting saloons centers, and many new advanced inventions are also brought to the occasion so better outcomes can be received.Hotels, saloon and spas places are decorated and make interactive as per the demand of the customers to capture the moment and grab the attention of visitors, and customers this is the better way of boosting your business and advancement can bring together which includes many display screens, interactive kiosks, smart tablets, and smart mirror.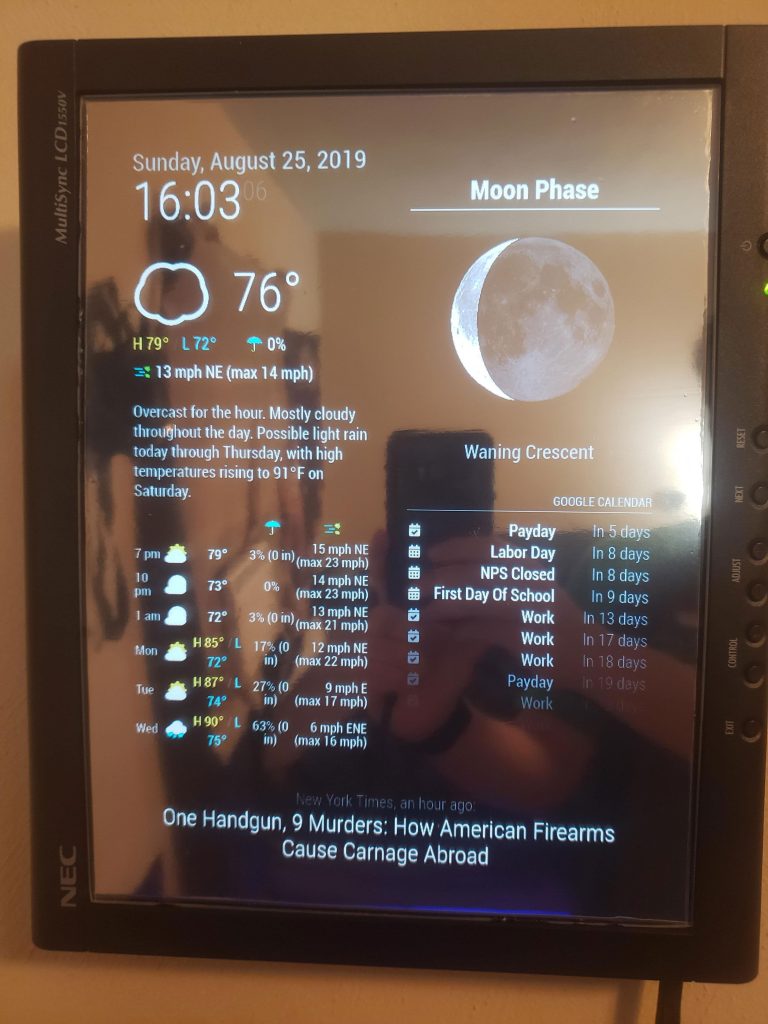 These interactive items are the beautiful parts of the wedding hall which make it more appealing, and sophisticated. you invest and in return get outstanding and prominent results from your investments.Smart mirrors are also displayed screen which works digitally like innovative item nd accomplish the task effectively and efficiently.it simply works with WiFi and through this display, we can information along with capture the moment. it performs the most alluring and superb function in hotels, saloon, and spas and do capture all the moments and make them memorable. It has many advanced features because it works differently than compared to other ordinary cameras and mirrors there especially these smart mirrors are introduced in the hotels, saloons, and spas. some smartphones help to connect the Bluetooth of mobile phones and play music and thus it accesses the apps on our phone. It has many features embedded and used for specific applications from making the scenario attractive to fitness and provide some personalized information mainly focused on skincare and face makeup. smart mirrors are sometimes called magic mirror which is the smart version and has the special ability to display information what you desire on it. on the wedding ceremony, it provides and gives coverage about the events and entirely defines the beautiful background more attractively. this smart version provides and captures the moment of the current phase and makes it durable and unforgettable for all the customers at the wedding ceremony.
Digital Table Smart
Saloon centers and hotels are decorated for the wedding ceremony and it one of the most important events where every little part of the hall is decorated luxuriously. The decorations include some advanced and special features which make it attractive and grab the attention of customers.
The hall is entirely decorated with alluring innovative items Wedding hall and banquet places are decorated as per the demand of the customers to capture the moment and grab the attention of visitors, and customers this is the better way of boosting your business and advancement can bring together which includes many display screens, interactive kiosks, smart tables, and smart mirror. These interactive items are the beautiful parts of the wedding hall that make it more appealing, and sophisticated. you invest and in return get outstanding and prominent results from your investments. The display screens comprise of led display at the very entrance of the hotels and saloons and spas with a warm welcome, and in a most attractive way so the customers can better motivated and fascinated with the whole scenario. Lightening is the major part and makes the overall area glamorous and glittering which further enhances the hotel reception hall sophistication. The whole coverage area is embellished with many display interactive inventions and the digital smart table is among one of them where the customers interact for more detailed information regards the saloon and spas. The digital smart table has been introduced in the saloon and spas for interaction and revolutionary meetings with the management team. Customers interact with these digital smart tables for more inquiry and information and can also add their suggestions and demand when something they considered to be added. These smart tables are also smart versions and help customers in several innovative ways. They interactive with their kiosks and make the event more irresistible and memorable and they prefer the items which make the event and place more attractive.